One of the most beautiful pieces of heritage public street furniture is the famous Jaffe Fountain. Its vibrant yellow and ornate iron structure stands in spectacular contrast to the equally iconic Victoria Square dome. The fountain is also a lasting memorial to the Jewish community and their contribution to the civic, commercial and cultural life of the city.
THE JAFFE MEMORIAL FOUNTAIN – erected by his son Sir Otto Moses Jaffe who held the office of Belfast Lord Mayor twice and was a leader of the Jewish community in the city. The inscription reads:
Daniel Joseph Jaffe born Schwerin 1809 Died at Nice 1874

A founder of Jaffe Brothers of Hamburg, Dundee, Belfast, Liepzig and Paris.

He fostered the linen trade of Ulster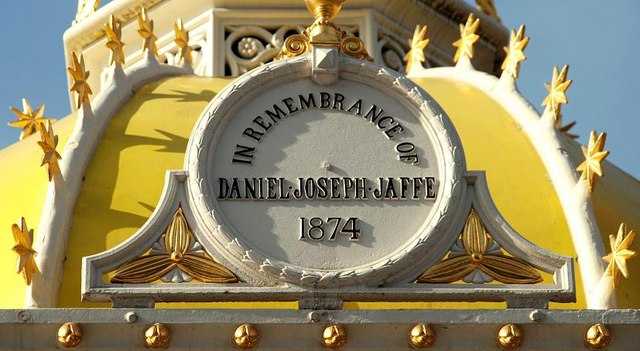 Otto Jaffe, Belfast's first  Jewish Lord Mayor, was born in Hamburg on August 13, 1846. His father, Daniel Joseph Jaffe, was a merchant, who came to Belfast to set up a linen export business in 1850. This business went on to become the largest linen exporter in Ireland.
The Jaffe Brothers were based at Bedford Street in Belfast. Jaffe was educated at Mr Tate's school in Hollywood, Co Down and spent the decade from 1867 working in New York. He then returned to Belfast in 1877 to take over the management of the family firm.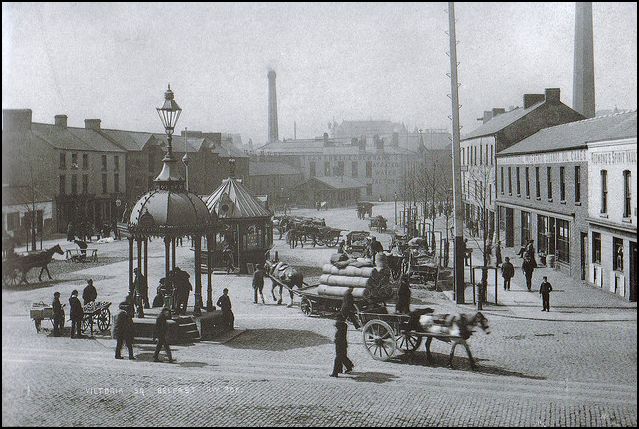 Jaffe erected the Jaffe Memorial fountain in 1874 to commemorate his father, who had funded the building of Belfast's first synagogue at Great Victoria Street. Originally sited in Victoria Square, the fountain was surmounted by an ornamental lamp the a weather vane. It was later moved to the Botanic Gardens. Another memorial to Daniel Jaffe, a tall granite obelisk was erected in City Cemetery on the Falls Road.
Public fountains were a popular way to commemorate famous people and also offered a public service. It was made by George Smith & Co The Sun Foundry in Glasgow. Interestingly it has a twin in Limerick known as the Russell Fountain. The fountains could be chosen from a catalogue and other similar designs were installed in the UK.