'Corner of a Foreign Field': a play about the burial of Indian Muslim troops at the time of the First World War
The play is set in  October 1914 and Maulana Sadr Ud-Din is battling with General Barrow, the Military Secretary to the India Office, over the appropriate burial grounds for Muslim soldiers. With Turkey entering the war on the side of the Central Powers much could rest on the decision that is made. The episode highlights the multi-cultural nature of the British Army and the challenges that presented with different religions, cultures and sensitivities. The solution was the building of Woking Muslim Burial ground the final resting place of many Muslim soldiers. To find our more click here.
This podcast is one of five short plays produced in response to documents held at The National Archives relating to the experiences of people from South Asia at the time of the First World War. The series was created by five playwrights from the Tamasha Developing Artists (TDA) programme and funded by the Friends of The National Archives.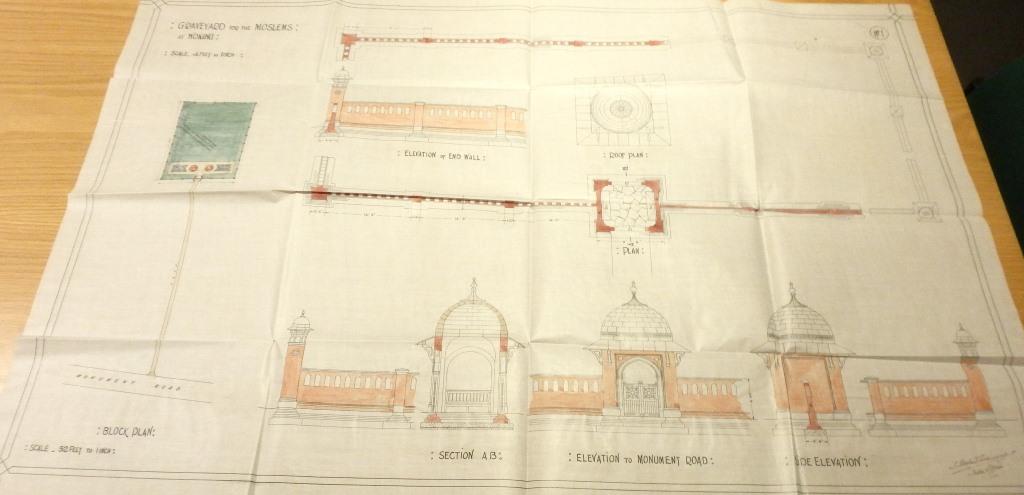 Duration 00:16:14
Written by: Hassan Abdulrazzak
Directed by: Anthony Simpson-Pike
Performed by: Naveed Khan, Jag Sanghera, Sid Sagar and Jim Conway
Recorded, edited and sound designed by: Robbie MacInnes
Photo credits: Bettina Adela
With thanks to Iqbal Husain and Sara Griffiths at The National Archives; and Fin Kennedy and Mina Maisuria at Tamasha Theatre.
Transcription
This is a transcript for the audio recording of 'Corner of a Foreign Field', a play by Hassan Abdulrazzak.
Stage directions for this play are marked with square brackets.
Sherman
And so the cemetery will be built here, close to Netley hospital, as soon as the purchase is finalised. What we would really like from you, Mr. Sadr ud-Din is direction regarding how this cemetery should look, what provisions you need, etc. The rituals and particulars of the Muslim faith are somewhat of a mystery to us, I am afraid. We wish to proceed quickly. For the benefit of all concerned.
Mr. Sadr ud-Din?

Sadr ud-Din
All concerned?

Sherman
Yes.

Sadr ud-Din
Meaning the India Office and the War Office.

Sherman
It is the men, I am thinking of primarily. To honour the sacrifice of Muslim soldiers for their King. Now, Mr. Sadr ud-Din, if you would care to instruct me regarding the optimal layout.

Sadr ud-Din
Lt. Col. Sherman. Do you really want my advice or is my coming here a mere formality?

Sherman
I assure you it is no formality.
Sadr ud-Din
Then my advice is that you do not purchase this land.

Sherman
Sir, the matter is almost decided.

Sadr ud-Din
It would be best if it were undecided.

Sherman
May I know the reasons for your objection?

Sadr ud-Din
To gain access to the land one has to pass through the Christian part of the cemetery.

Sherman
Does that matter?

Sadr ud-Din
It does not seem appropriate.

Sherman
Perhaps if we construct a separate entrance.

Sadr ud-Din
Imagine if a famous Muslim were to be buried here, the coming of some Raja or Nawab to visit will be greatly inconvenient, with Netley being some 50 miles away from London.

Sherman
Well, yes, I suppose.

Sadr ud-Din
That dignitary will regret the lack of foresight of the British authorities.

Sherman
My superiors are not going to like this.

Sadr ud-Din
And that could have all sorts of unintended consequences.

Sherman
What exactly do you mean?
Sadr ud-Din
Besides who will come to conduct the funeral prayers? I cannot come here every day from Woking.

Sherman
So what is the solution?

Sadr ud-Din
A plot should be purchased near the Mosque in Woking. A cemetery can be established there immediately, and I will be responsible for conducting the funeral prayers.

Sherman
I will report your recommendations but I can not guarantee.

Sadr ud-Din
Naturally the bodies will need to be sent to Woking from Netley by motor car. And the coffins draped with the union flag.

Sherman
Anything else?

Sadr ud-Din
There is something you should make clear to your superiors…

[Scene 2: India Office / Sadr ud-Din's office at Woking Mosque]

General Barrow
Outrageous.

Sherman
He was most adamant.

Bilal
Did you have to antagonise them, Maulana?

Sadr ud-Din
Would you rather I kept silent, Bilal?

General Barrow
Tell him it will be Netley or nothing.
Sherman
I don't think his request is entirely unreasonable.

Sadr ud-Din
I have a duty towards these soldiers.

General Barrow
Who will foot the bill for this cemetery he wants at Woking?

Sherman
This is a small price to pay perhaps.

General Barrow
The man is simply too lazy to conduct the funerals at Netley. We mustn't let him override what has been decided.

Sherman
There is perhaps more at stake than you realise…General Barrow, sir.

Bilal
We're guests in their country. You should've just said yes.

Sadr ud-Din
Don't you see Bilal, I refused for their sake also.

Bilal
I don't catch your meaning, Maulana.

Sherman
Turkey, sir.

General Barrow
What about Turkey?

Sherman
They are a party to the war now. On the side of Germany.

Sadr ud-Din
Turkey changes everything.

General Barrow
I am not a complete imbecile.

Sherman
I am sorry sir, I did not mean / (to suggest you were).
General Barrow
To the point, Sherman, and quick.

Sherman
What he made clear sir, is that Muslims in India will have to consider whether it is right to fight against fellow Muslims.

General Barrow
And what can sway them?

Sherman
Well sir, what he said is that from a religious stand.

Sadr ud-Din
It can be argued that Muslims are obliged to stand with the King as he is their sovereign and the holy Quran stipulates that you must give obedience to those in authority.

General Barrow
Excellent! I had no idea the Quran was so conducive to the conduct of empire.

Bilal
Ah! But there is a catch, Maulana, isn't there?

Sadr ud-Din
You are right, Bilal

Sherman
There is a catch, sir.

General Barrow
What catch?

Sherman
The stipulation is void if the sovereign proves unjust, sir.

General Barrow
Unjust how? Did he specify?

Sherman
Not exactly. He framed his argument in a positive light.

Sadr ud-Din
If news reaches Muslims that the government has made allowances for all their needs, and given consideration to all the religious requirements, it will prove very beneficial.
Sherman
In other words it will prove detrimental if news reaches India that the government has failed to give their Muslim soldiers appropriate burial.

Genral Barrow
I hear a crack. It must be the sound of my arm being twisted.

Bilal
I don't understand why you are making so much trouble, Maulana.

Genral Barrow
Look into it.

Sherman
Sir?

General Barrow
The cemetery at Woking, man. The cemetery at Woking.

Sadr ud-Din
Something odd happened to me Bilal.

General Barrow
Let's be done with it.
Sadr ud-Din
When I disembarked from the train at Netely, I wept.

General Barrow
Some 7000 Indians are at the front in France.

Sadr ud-Din
I was so ashamed I hid my face in my handkerchief so I wouldn't catch the attention of the passing public.

General Barrow
Soon the wounded will start arriving.

Sadr ud-Din
The thought that I had to lay the foundation.

General Barrow
At Netley.

Sadr ud-Din
With my own hands.
General Barrow
At Brighton.

Sadr ud-Din
Of a cemetery for my own brethren, it overwhelmed me.

Bilal
It is a heavy responsibility, Maulana.

General Barrow
Many of them will give up the ghost, right here on England's soil.

Sadr ud-Din
They have left everything behind in our country to fight and shed their blood for England.

General Barrow
We need to have some arrangement in place and soon. No matter how rudimentary.

Sadr ud-Din
I will not accept a second best arrangement.

General Barrow
Speed is of the essence.

Sherman
Yes sir.

Bilal
This will not end well.

[Scene 3: Horsell Common, May 1915]

Sadr ud-Din
Astaghfer Allah

Bilal
We'll have to make do.

Sadr ud-Din
Are you serious Bilal?
Bilal
What can we do?

Sadr ud-Din
The land is waterlogged!

Bilal
Perhaps the dead don't mind.

Sadr ud-Din
I mind. I can not bury our fallen in this place.

Bilal
It is near the mosque, Maulana as you asked. And they've handed you the keys. It's too late.

Sadr ud-Din
I have been tricked. This is not what I wanted.

Bilal
You asked for too much. I told you.

Sadr ud-Din
To have a gravedigger at a cemetery?

Bilal
A cemetery without a gravedigger seems somewhat on the pointless side, I grant you that.

Sadr ud-Din
No fence to keep out dogs. And some people around here are in the habit of rearing pigs.

Bilal
Pigs in a Muslim cemetery might pose a slight problem.

Sadr ud-Din
Your talent for understatement is unsurpassable, Bilal.

Bilal
But you have the ground, Maulana. That's an achievement, isn't it? How much did it cost?

Sadr ud-Din
That's not your concern.
Bilal
Oh Maulana, do you imagine that I would go around spreading rumours, saying you are making a killing out of killing?
Sadr ud-Din
Are you questioning my integrity, Bilal?

Bilal
Oh Maulana, Allah forbid. You are straighter than an English ruler. Which is why you will share with me how much the ground cost.

Sadr ud-Din
A £1000 pound. Satisfied?

Bilal
A man with that kind of money could easily afford four wives. Ah, four wives.

Sadr ud-Din
You can't afford one wife, so stop dreaming.

Bilal
Sorry, Maulana. Do you not get lonely sometimes?

Sadr ud-Din
I focus on the work. I suggest you do the same.

Bilal
I miss my mother's golgappa.

Sadr ud-Din
Learn to cook it and you will cease to miss it.

Bilal
I have looked for the ingredients in the market. I found nothing. The food is unbearably bland here. Maulana, sir, do you not think we are on the wrong side?

Sadr ud-Din
What do you mean?

Bilal
I heard the Germans are building a mosque that will be as magnificent as the dome of the rock in Jerusalem.
Sadr ud-Din
I will not hear such seditious talk.

Bilal
You would be more respected in Germany.

Sadr ud-Din
Enough!
Bilal
But you yourself said it, Maulana. They have given you waterlogged land. There isn't even a hut to keep the bodies overnight. There is no caretaker to open the gate. There is barely a gate! Is this not an insult?

Bilal
What will you do?

Sadr ud-Din
Speak with Sherman.

[Scene 4: India office]

Sadr ud-Din
Have they not died for England?

Sherman
Mr. Sadr ud-Din/

Sadr ud-Din
Answer the question. Have they not sacrificed their lives for King and country?

Sherman
I am sympathetic to your plight.

Sadr ud-Din
Then do something about it Lt. Col.

Sherman
The cost of this war is unimaginable. We all need to tighten our belts.

Sadr ud-Din
Are you telling me that the bodies of English soldiers are left out over night, under the elements, in your cemeteries?
Sherman
Of course not.

Sadr ud-Din
And is there not talk of building lavish memorials for the English dead?

Sherman
I would not say lavish. Fitting, but not lavish.

Sadr ud-Din
Let me speak with him.

Sherman
That will not be wise.

Sadr ud-Din
I demand to speak with General Barrow.

Sherman
You should convey your displeasure to him in writing.

Sadr ud-Din
No.

Sherman
Mr Sadr ud-Din/

Sadr ud-Din
These past several months, I have spent most of my time engaged in meeting with go-betweens such as yourself. And this has got me precisely nowhere. I want to speak with General Barrow directly.

Sherman
The letters would be to your advantage.

Sadr ud-Din
I fail to see that.

Sherman
They provide a record that the War Office and the India Office must address.

Sadr ud-Din
Let me speak to him.
[Scene 5: General Barrow's office.]

General Barrow
We offered you the ground at Netley.

Sadr ud-Din
You are not listening.

General Barrow
Then we suggested you bury them at Brockwood. But you insisted on a dedicated Muslim cemetery. So we provided the ground at Woking.

Sadr ud-Din
It is not fit for purpose.

General Barrow
Perhaps you are not fit for purpose.

Sadr ud-Din
Excuse me?

General Barrow
Sir Walter Lawrence, the War Office Commissioner for Indian Hospitals, is displeased with your conduct. In a report to Lord Kitchener of which I happen to have a copy, he describes you as being exceedingly 'difficile'.
Sadr ud-Din
Difficile?!

General Barrow
It means hard to deal with.

Sadr ud-Din
I know what it means.

General Barrow
He says your object is to make mischief. And I must say, I agree with him.

Sherman
Sir, let me assure you.

General Barrow
Quiet Sherman! Are you an agitator Mr Sadr ud-Din? Is that your game? Do your sympathies lie with the Turks?

Sadr ud-Din
I could not bury the dead soldiers in the marshy piece of unfenced ground over which people and dogs could stray: therefore I buried twenty-five of them in the Mohammedan burial ground at Brockwood at my own expense.

General Barrow
Perhaps you are one of those Muslims who thinks they would fare better in Germany.

Sadr ud-Din
Brockwood is now full. I have already buried three in Woking but the ground is in such a disgraceful state that it would not do to allow the Indian soldiers to go and see the burial-place of their comrades. They have frequently asked, but I have had to put them off because – being a loyal subject of His Majesty – I did not desire to raise the resentment which must inevitably be felt when the truth becomes known of the manner in which the British Government have treated their dead heroes.

General Barrow
The Muslim religion is very broad-minded and reasonable. We do not think it is necessary to even have a dedicated cemetery.

Sadr ud-Din
You wish to take back what little you have given?

General Barrow
It is a matter of war. Wherever someone dies, let him be buried there. We can not spend more on this…this project of yours.

Sadr ud-Din
When Germany invaded Belgium, Britain was woefully unprepared. Your army was inadequate to cover the front. Had it not been for the Indian soldiers you would have lost access to the Channel ports.

General Barrow
Those sacrifices have been duly noted.

Sadr ud-Din
'Duly noted'? I have had bodies sent to me bearing the wrong names: bodies sent without any flowers: bodies sent to me at any hour of the day or night.
General Barrow
Good day, Mr. Sadr ud-Din.

Sadr ud-Din
Without previous notice, and no respect shown for them whatever – not even any military demonstration at their graves.

General Barrow
Lt. Col. Sherman, would you show the imam out?

Sadr ud-Din
No caretaker is provided for the Cemetery If a visitor desires to go there, I myself the head of the Mohammedan Church in England.

General Barrow
Sherman!

Lt. Col. Sherman
Yes Sir!

Sadr ud-Din
I am compelled to go with the key and admit the stranger.

Sadr ud-Din
So how exactly has their sacrifice been 'duly noted'?

General Barrow
Out!

[Scene 6: Woking Mosque]

Bilal
The bodies just keep coming. And no end to the war in sight.
Sadr un-Din
I feel ashamed.

Bilal
Don't be hard on yourself.

Sadr un-Din
I failed to provide decent burial for these men.

Bilal
I keep telling you this is not our country. There is only so much we can expect to achieve.
Sadr un-Din
The British are not even paying for the cemetery out of their own pockets. It is funded by the India Office which relies on taxes levied on Indians.

Bilal
We will bury them the best we can.

Bilal
I know what will cheer you up, Maulana. Some home cooked golgappa! I received a parcel from Lahore with some spices. And a wonderful letter from my mother saying she has found me a most suitable bride. What's wrong Maulana, you seem agitated?

Sadr un-Din
Lt. Col. Sherman was right. The British have a reverence for letters. And so I will start a bombardment campaign of letters.

Bilal
Allah help us, you will not let this go, will you?

Sadr un-Din
I will write to Lord Headley.

Bilal
The Muslim convert? With the Arabian Nights turban and massive moustache?

Sadr un-Din
Yes him. And also to Lord Kitchener and to the Agha Khan and to whoever will listen to our plight. Grab pen and paper, quickly, quickly.

Bilal
Would you rather not go and eat some golgappa?

Sadr un-Din
Bilal!

Bilal
Alright. Alright.

Sadr un-Din
Ready?

Bilal
Fire away.

Sadr un-Din
Let's aim for the heart. Lord Kitchener, the War Office. Are you writing Bilal?

Bilal
Is it haram to use the casket as desk?

Sadr un-Din
Just write, will you!

Bilal
OK, OK. I will go to hell for this, no bride, no golgappa, but OK.

Sadr un-Din
I desire to point out to the government the very grave danger of allowing the impression to gain ground in India that England is not showing sufficient respect to the memories of her Indian heroes. I need not enlarge upon the very serious effect which an exposure of this kind would make, both among the soldiers at the front, and the entire population throughout India.

Bilal
Should you not veil the threat a little, Maulana?

Sadr un-Din
The time for veiling is past.

The End.