A new lease of life – The Muslim Burial Ground Peace Garden opens
During the summer of 2013, works to restore the unique Grade II listed Muslim Burial Ground to its former glory and create a garden of peace and remembrance commenced. Funding and support from a number of organisations, including Woking Borough Council, Historic England, Armed Forces Covenant Grant Scheme, Department for Communities and Local Government, Shah Jahan Mosque, Surrey County Council, and the Sultanate of the Government of Oman has helped create an Islamic style garden within the walled structure for visitors to enjoy its tranquillity, and to reflect on the sacrifices made by those servicemen who gave their lives in battle during two World Wars.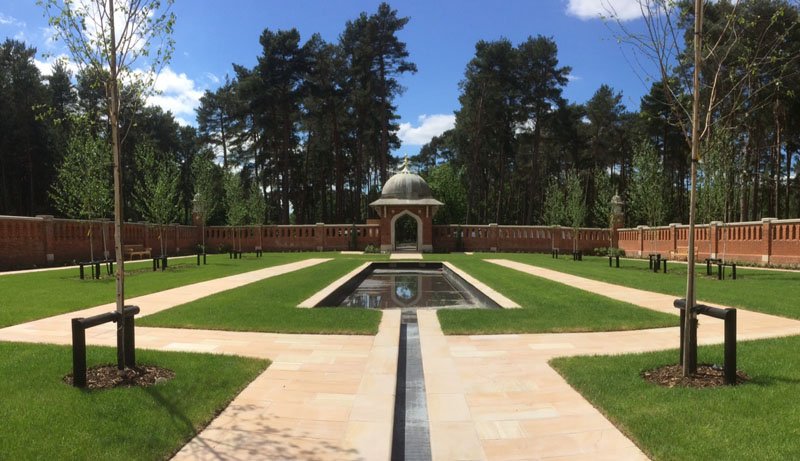 The Peace Garden features 27 Himalayan birch trees representing the number of servicemen formerly buried at the site, a water feature incorporating a memorial stone bearing their names, bold strips of pink and white heather orientated towards Mecca, scented plants such as Rosa rugosa and Sarcococca orientalis, two stone ceremonial prayer mats, and benches. The garden is a significant heritage site for Woking and will provide a focal point for acts of commemoration and remembrance.
The garden was officially opened by HRH The Earl of Wessex, KG, GCVO, on 12 November 2015.
For more information about the renovation of the Muslim Burial Ground please see the Horsell Common Preservation Society website and Woking Borough Council https://www.woking.gov.uk/council-and-democracy/about-woking/history/wokings-muslim-burial-ground.
Woking Borough Council produced an introductory video to the Muslim Burial Peace Garden.
A news feature about the start of the renovation work can be seen on the BBC website http://www.bbc.co.uk/news/uk-england-surrey-23593060 and the opening is featured on http://www.bbc.co.uk/news/uk-england-surrey-34792865.
A BBC documentary about the renovation of the Burial Ground into the Peace Garden was broadcast on BBC1 on 3 Jan 2016. This programme is not currently available on BBC iPlayer http://www.bbc.co.uk/iplayer/episode/b06vb8rv/britains-muslim-soldiers. However, a copy of the film is available for individual reference purposes at Surrey History Centre, ref F/101.

VIRTUAL TOUR
Explore the Peace Garden with a virtual tour and take some time to reflect on the scale of service and sacrifice made by Muslim soldiers in the First World War.


OTHER RESOURCES

For more information check out the website for the HLF project 'Unknown & Untold', run by British Future, and New Horizons in British Islam, which aims to commemorate and raise awareness of the 400,000 Indian Muslims who gallantly fought during the First World War as part of the British Army http://ww1muslimsoldiers.org.uk/.

IMAGE GALLERY